The wintry weather we've all endured for the past month has focused attention on municipal bylaws about clearing snow and ice from sidewalks.
The unusual pattern of snowfall, followed by a slight thaw, followed by an extended cold snap, caught many people out. Homeowners, property managers and even city crews that didn't clear the first snowfall right away suddenly found themselves confronted with a thick moonscape of ice, frozen slush and crusted snow on sidewalks, parking lots and even roads. That made getting around tough for cars, treacherous for pedestrians.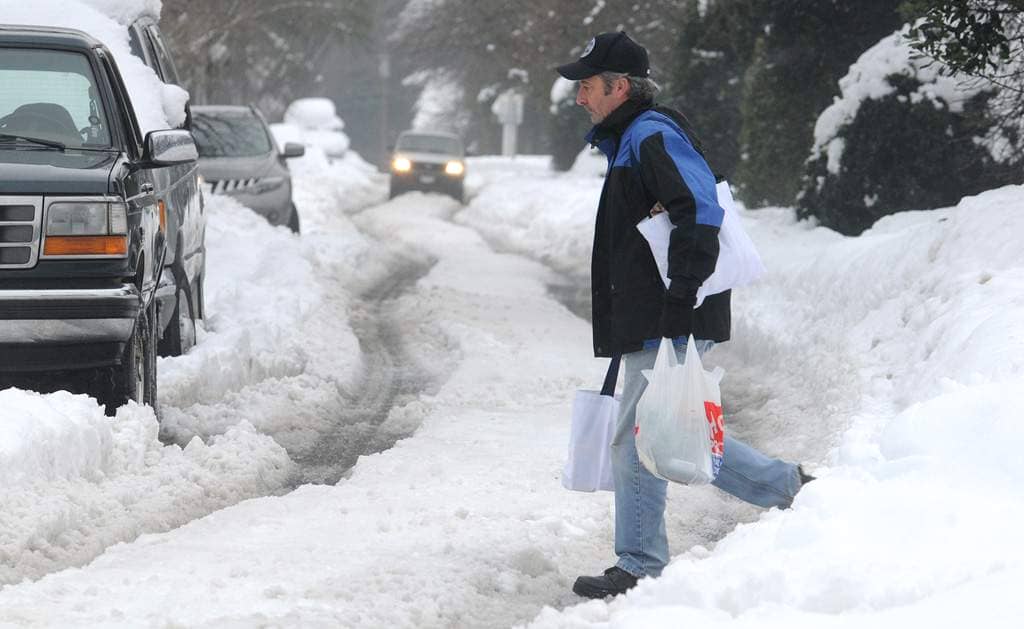 Municipal bylaws are a set of rules and regulations that set standards for safety, maintenance, appearance, liveability and sustainability in a community. They're implemented so residents, businesses and visitors can enjoy the community and coexist harmoniously. One of the those rules, common to many cities, mandates when property owners must clear snow from sidewalks or foot paths bordering their property.
In New Westminster, bylaw 6.28.2 says "the owner or occupier of real property shall: remove snow and ice from any Sidewalk, transit landing and foot path bordering that person's real property and from the roof and other part of a structure adjacent to or abutting on any portion of the Street, not later than 10:00 a.m. of the day after the snow or ice was deposited thereon." The sidewalks must be cleared their full length and width, right down to the bare concrete; it's not good enough to create just a shovel-wide foot path. And if you've got an awning that hangs over a sidewalk, it should be cleared as well.
In Burnaby, businesses have to remove accumulated snow by 10 a.m. of any day they're open to the public and residents must clear their sidewalks "as soon as possible."
But regulations about clearing snow are only the tip of the municipal bylaws iceberg.
Municipal bylaws affect daily life
Municipal bylaws can affect many aspects of your life, from where you can park your car, to how loud and late you can play your stereo, to how well you must care for your property and the kind of renovation work you can do on it. They can govern when and how you dispose of your garbage, how you care for your pets, and even what kind of pets you can keep.
Municipal bylaws are passed by elected councils. They're often created to address specific issues in communities, sometimes in response to concerns and complaints from community members.
For instance, the value New Westminster residents have placed on preserving the city's heritage homes and buildings led to the creation of a "Community Heritage Register" of those properties in 1997. It's accompanied by a whole series of municipal bylaws that regulate how protected heritage properties must be maintained. They also set procedures owners of those properties must follow if they want to do any renovations, restorations or even just paint the exterior.
The growing concern about the loss of trees and the possible impact on climate change as well as the appearance of neighbourhoods has led many communities to pass municipal bylaws that regulate the removal of trees. Those bylaws stipulate what size and kind of trees can be removed, as well as procedures to remove those trees so other trees aren't affected and replant new trees.
When you become a homeowner in a community, it pays to familiarize yourself with its municipal bylaws. Or rather, you won't pay if you know the rules because then a bylaw enforcement officer won't show up at your door with a ticket for a violation.
Where to find municipal bylaws